The Complete Cuban Jam Sessions Box Set (LP and CD)
By Nelson Rodriguez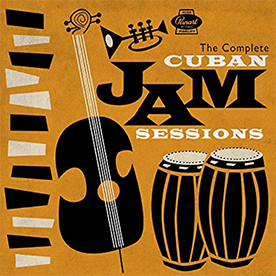 Vinyl is once again gaining popularity worldwide with collectors from all decades. Today there is a whole new generation of young lovers discovering vinyl and then you have the old school collectors like myself who still love vinyl over CD.

For both collectors there is the 5 LP box set of The Complete Cuban Jam Sessions that back in 1957 started the Latin all-star descarga craze that led to such bands as The Alegre All Stars, Tico All Stars, The Arieto All Stars, The Fania All Stars, The Puerto Rico All Stars and all that followed in the next 50 plus years. The Latin pioneers from Cuba who spearheaded this revolution were pianist Julio Gutierrez, tresero Niño Rivera, bassist Israel Lopez 'Cachao' and Jose Fajardo who set the world on fire by just deciding to get together after their night club jobs to jam and tell the story about how it all happened. These were the bandleaders that made this historic event happen with other giants like Alejandro 'El Negro' Vivar, Tata Guines, Walfredo De Los Reyes Sr., Guillermo Barreto, Pedro 'Peruchin' Justiz, Richard Egues, Generoso Jimenez, Juan Pablo Miranda, Gustavo Tamayo, Jose 'Chombo' Silva, Orestes Lopez, Marcelino Valdes, Edilberto Escrich, Salvador Vivar, Francisco Fellove, Carlos Faxas, Oscar Valdes and many more.

The wonderful booklet that accompanies both the five LP set or the CD set tells the story of how it all began and sheds light on an event that shaped the way descargas and/or jam sessions affected musicians worldwide for many decades.

You will love the photos and the story of Panart Records involvement in these sessions. While the story makes it clear that there were many more musicians unaccounted for in these recordings the shear magic of what happened and what it led too makes this collection a must for any collector or fan of true Afro Cuban history.