The Exclusion of Latin Jazz Artists

...in the Airwaves
By Nelson Rodríguez
Junio-septiembre del 2018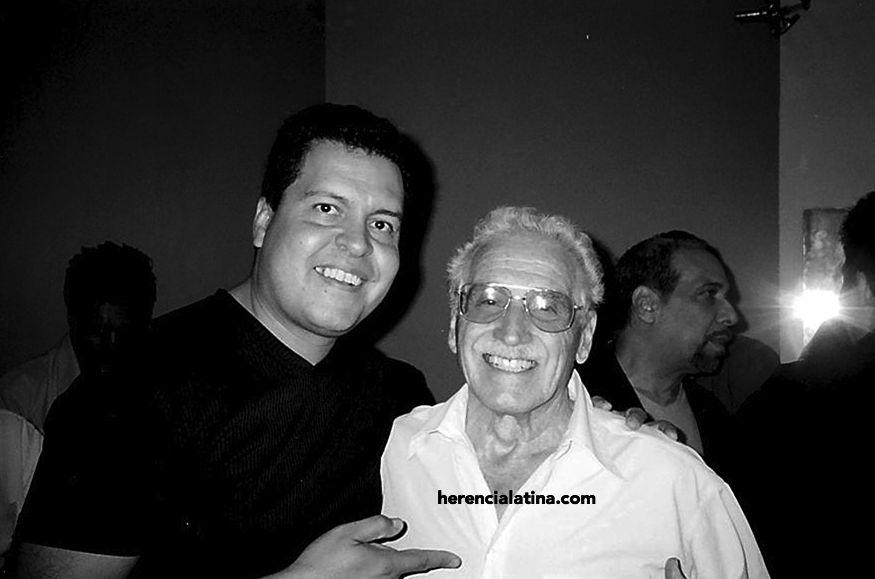 Jack Contanzo was one of the greats
[NAMM Convention]
En herencia latina, se le recuerda con toda el alma.

In the early 1990's, I used to have a streaming music service through XM Radio, a national satellite service, that you would pay $10 a month to listen to 24 hours/7 days a week with no commercials. At the time the channel had five Latin stations of which one was 'Caliente'. This channel was very similar to the Sirius satellite, which came later and would eventually join with XM as one provider. My favorite was the Latin Jazz channel. Then unfortunately this past year my AT&T account switched the service we were getting, from Sonic Tap to Music Choice without customer input whatsoever. To read more about this transaction, click here

So, from Sonic Tap it got switched to Music Choice, making the Latin Jazz choices practically really bad, for example, the details provided at one time by Sonic Tap were no longer available on Music Choice. Leaving the clientele with no information whatsoever. While the information on the TV screen was not the best, it certainly provided a tidbit of interest.

On the Sonic Salsa channel, it only represented modern romantic salsa along with merengue and other 'Tropical' rhythms that should be on another channel, not combined.

The traditional old school on the new Salsa channel was totally forgotten. No Louie Ramirez, Mario Ortiz, Machito, Tito Rodriguez, Tito Puente, Eddie & Charlie Palmieri, Orchestra Harlow, Bobby Valentin, Bobby Rodriguez y La Compañia, Cheo Feliciano, Sonora Matancera, Los Van Van, Willie Rosario, Orchestra Broadway, Fajardo y sus Estrellas, El Gran Combo, Cortijo y Su Combo, Dimension Latina, Orlando Marin, Raphy Leavitt, Joe Quijano, La Lupe, Fruko y sus Tesos, Federico y su Combo Latino Beny More, Alegre All Stars, Elio Reve, Tommy Olivencia, Richie Ray & Bobby Cruz, Ismael Rivera, Ray Barretto, Ruben Blades, Jose Mangual Jr., Willie Colon & Hector Lavoe or any of the contemporaries like Spanish Harlem Orchestra, Tito Rodriguez Jr., Latin Legends Orchestra, Jimmy Bosch, Johnny Polanco, Bailatino, Oscar D'Leon, Pacific Mambo Orchestra, Mercadonegro, Tromboranga, Dorance Lorza & Sexteto Café, Gerardo Rosales, Sonora Ponceña, etc. What a shame since the music is not being properly represented.

So now I've noticed many channels under AT&T services for Latin music are different, but yet other genre were pretty much intact such as the 60's, the 70's, the 80's, the 90's, pop music, Hip Hop, and Country music which has several various channels. I do recognize that experts in those fields have something to say about how good they are or not.

But when I was listening to the Salsa channel, now called "Tropical", it is all over the map with everything thrown in there and again no 'old skool' Salsa, or Salsa Dura as others call it, or modern recordings. When I went to my favorite channel in a panic, thinking it may be gone channel # 879 I saw the title of Latin Jazz which has now become 80% Brazilian Jazz. And here is where my beef begins…and I have been observing these changes since my days on the Governing Board of the Grammy's when the Latin Grammy Awards got instituted in 2000.

Here are three definitions of Latin Jazz that are the most common around the world and in dictionaries or forums:

1-Latin Jazz is a genre of jazz with Latin American rhythms. Although musicians continually expand its parameters, the term Latin Jazz is generally understood to have a more specific meaning than simply jazz from Latin America. Some Latin Jazz typically employs rhythms that either have a direct analog in Africa, or exhibit an African influence.

2-Latin Jazz was the result of a long process of interaction between American and Cuban music styles. In New Orleans around the turn of the 20th century, Latin American music influenced the city's early jazz style, endowing it with a distinctive syncopated (accents shifted to weak beats) rhythmic character.

3-In general terms, Latin Jazz is a musical label defined by the combination of Jazz with Latin music rhythms. Brazilian Jazz, a style that emerged from the sounds of Bossa Nova and of course Jazz Samba.

I grew up in the Bronx listening to Jazz and Latin Jazz in the 60's along with my Motown & pop music and understood that the difference between Jazz and Latin Jazz was the Latin instrumentation. If it had a bongo, conga, timbales, guiro or a clave beat, it was Latin Jazz. I remember having a lengthy discussion with Ray Barretto at the Nuyorican Poet's Café about this subject and he always felt there was no Latin Jazz and that it was all Jazz. If that is true then we are all screwed since the Latin Jazz category is being used to throw everyone that should be in a Jazz category. Think about this, how does a Jazz bassist win the award simply because he used Latin compositions, or a Flamenco trio win a Grammy as a Latin Jazz artist. I know what you are going to say. It is Latin Jazz because Flamenco comes from Spain or because Brazil is a Latin country. Don't get me wrong, I love the music but, simply put they are not Latin Jazz based on definitions one and two above. I do understand that Latin Jazz has two factions being Afro-Cuban and Brazilian Jazz.

Maybe it's time to change that for fairness to all and develop a new category or two at the award shows instead of lumping us all together. I know that is a tall order to ask for and many of you have tried but I can dream for change.

We have many Latinos who do Jazz and would love to be recognized as creators of authentic Jazz music and not be placed in the Latin Jazz category just because their names are Gonzalo Rubalcaba, David Sanchez, Miguel Zenon, Nestor Torres, Manuel Valera, Luis Perdomo, Danilo Perez, Dave Valentin, Pete Rodriguez, Robby Ameen, Bobby Rodriguez (west coast trumpeter) or Chucho Valdes. I'm sure these artists, as well as many others, would appreciate that they get rewarded as a Jazz artist and not a Latin Jazz artist because of their surname. The moment they chose to leave Latin instrumentations out of their recordings it was because they were creating Jazz.

What I want is fairness at Music Choice because I do not care what the opinions are. Artists like Ray Mantilla, Oscar Hernandez and Alma Libre, Charlie Sepulveda & The Turnaround, Eddie Palmieri, Humberto Ramirez, Julito Alvarado, Hilario Duran, Marty Sheller, Hector Martignon Banda Grande, Tumbao Bravo, Blanco y Negro, Jue' Mandingo, The Carlos Adames Group, Joe Collado, Ron Francis Blake, Manteca Blue, Fredrik Kronkvist, The Cujazz Ensemble all had excellent 2017 recordings and not only did they not get recognized, they are not included on any music channels that I listen to. And I am sure a few of you will point out some internet radio that may play them and those that do, I will congratulate them. I know non-commercial radio stations across the world that play some of this music which I have played them all on my Alma Del Barrio segment. Each year there are about 15-20 good recordings that do not get any Grammy nominations or any radio exposure well deserved.

I grew up listening to great music from Cal T'Jader, Puente, Machito & Mario Bauza, Irakere, Mongo Santamaria, Noro Morales, Dizzy Gillespie, the Cuban Jam Sessions and all the Salsa (Afro Caribbean) musicians that incorporated Latin Jazz tracks on their LP's. In addition, I remember listening to great Jazz musicians that recorded Latin Jazz LP's (Dave Samuels, Hubert Laws, Dave Pike, Charlie Parker, McCoy Tyner and more). Then listening over the years to other amazing musicians like Barretto, Palmieri, John Santos, Bobby Sanabria, Bobby Matos, Orlando Poleo, Hilton Ruiz, Andy Duran, Nueva Manteca, Justo Almario, Paquito D'Rivera, Snowboy & The Latin Section and hundreds more. I also loved all the Jazzers from the 50's and 60's that used Latin percussion like Ray Barretto, Patato, Armando Peraza, Johnny Pacheco, Carlos Vidal, and others. Many of these percussion giants that have recorded are not heard today over these channel services, maybe simply out of ignorance.

I wish there was a way to reach these satellite companies that do the programming, and make them see that the best way to be part of the history is inclusion and not exclusion. By no including these musicians, it hurts all of us in so many ways. Simply put, it doesn't educate the new generations to seeking for old and new Latin Jazz and Jazz musicians. These satellite companies should be looking to best represent the music and thus make themselves a more enjoyable experience for us, the fans. On a monthly basis, I find packages of Latin Jazz CDs, believe it or not, sent from all over the world on my desk. From great musicians from Japan, Latin America, Europe, Ukraine, Canada, and the US which I have played at Alma del Barrio on a regular basis, as some of you know.

Let's do right for the Arturo O'Farrill Big Band, Chembo Corniel, Chris Washburne & S.Y.O.T.O.S., Johnny Blas, Chuchito Valdes, Brian Lynch, Sammy Figueroa, Ray Vega, Ralph Irizarry, Rebeca Mauleon, Furito Rios, Henry Brun & The Latin Playerz, Paoli Mejias, Giovanni Hidalgo, Papo Vazquez, Jane Bunnett, Cesar Paredo, and Mark Levine as well as all those previously mentioned.
I'd like to hear your opinions or maybe ways of correcting this injustice! I feel better now that I've gotten this off my chest. I get what's happening but that does not mean I have to like it.
Si tiene alguna pregunta o sugerencia, por favor contácteme al siguiente correo electrónico: nelmelpat21@gmail.com
___________________________________________________________
Derechos Reservados de Autor
Herencia Latina
Edición Junio-Septiembre 2018