New Swing Sextet ("NSS")

NEW YORK CD RELEASE PARTY
by Alvin Berrios, a correspondent for Nelson Rodriguez
March 2013
CD Release Party...
On a gorgeous, cool Wednesday night, in the beginning of the year, one would know a fabulous experience was about to happen as soon as the CD release party event began held at LQ (Latin Quarters) for New Swing Sextet on January 23rd.
At the main entrance, the first person I met was pianist Conal Fowkes, whom was also waiting to get in, and said to me "you're in for a great night!" Yes, indeed, that would become the theme for the next hour as I spoke with each band member confirming a similar statement, -- "you're going to enjoy and remember this night!"
LQ was quickly packed, and the dancers were thrilled as the New Swing Sextet turned them on to two awesome sets comprised of the tracks from their brand new powerhouse CD "Yesterday, Today & Tomorrow".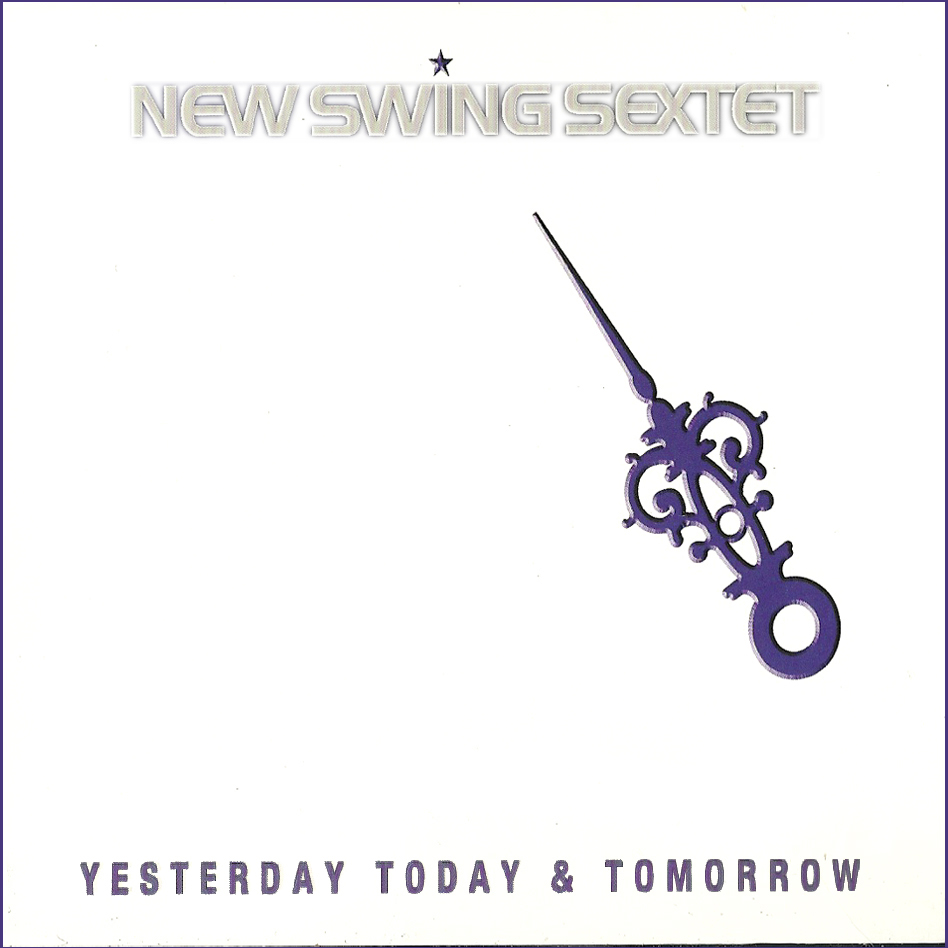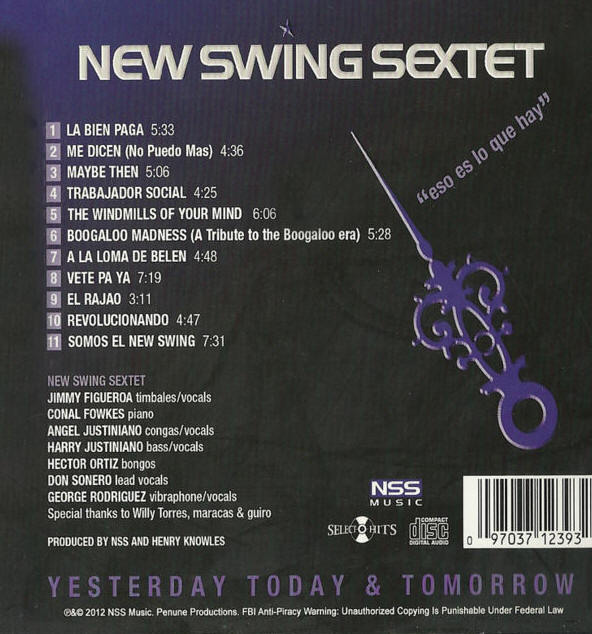 The New Swing Sextet has a rich history that for many fans on this night begun just five years ago. In the late 60's, this band produced four LP's that are collectors items today and while they were not the only sextet of the time period, they were a strong band that included great musicians…George Rodríguez, on vibes and English lyrics, wrote all the songs on the 1967 debut "The Explosive New Swing Sextet" for the Cotique label. Another key member of that sextet was pianist Aurelio 'Yeyo' Salgado who did many of the arrangements…along with vocalist Pete Ortíz, bassist Luis Quiñones, conguero Angel Rivera and Eddie Muñíz who played timbales and bongos were band members as powerful as any other sextet of that era.
In 1968, they released "A Taste of Spanish Harlem", and followed with the 1969 release of "Swinging Along", and finally, the 1970 "Revolucionando".
Another aspect that made this sextet unique in the late 60's was the 'Revue' aspect consisting of three young ladies that you can hear on some of the recordings from that time period.
Three decades and a half later, in 2008, George gets together with the latest version of NSS featuring vocalist Angel Justiniano on congas alongside his brother Harry Justiniano on bass and chorus, Jose 'Cheo' Medina as lead vocalist, Joseph Mannozzi Jr. on piano, multitalented Tomas Martin Lopez on timbales, bongos and chorus sharing duties with Hector Ortiz on timbales and bongos to record "Back On The Streets" spawning Fania's comeback onto the current music industry.
Grammy contender...
But due to the lack of marketing strategy, the sextet's release became a disappointment altogether. Unfortunately as it may be a failure for the record label itself, novetheless a fruitful sextet getting nominated for the Grammy's. Definitely a great beginning for the band, DJ Henry Knowles has been very busy booking the band throughout the world where their music has been legendary amongst collectors and fans.
Nowadays in 2013, with the new CD release, "Yesterday, Today &Tomorrow", the New Swing Sextet is poised to launch another worldwide tour delighting fans with such a powerful recording that without any doubt to naturally become an international sensation charting the top hits list for the rest of the year. Songs like "El Rajao", "Revolucionando" , "Vete Pa Ya", "La Bien Paga", "Maybe Then" (with the superb vocal work by Angel Justiniano), "Trabajador Social", "Somos El New Swing", "Windmills of Your Mind" and the "Boogaloo Madness" medley.
The band's musicians include Angel, Conal, Harry, George, Hector, and Jimmy Figueroa on timbales and vocals. And finally, the new youthful and sensational vocalist of none other than Don Sonero, Gilberto Velasquez -- ex-La Excelencia member, -- whom proved to be one of the key elements that will help introduce NSS to a younger generation.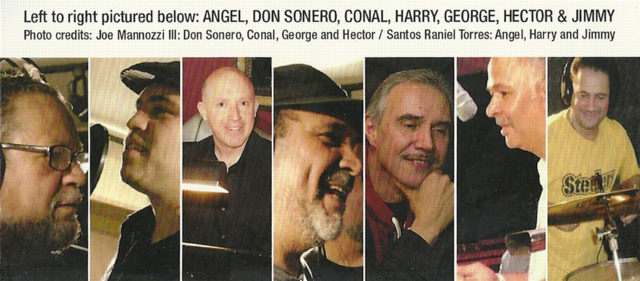 After the night's performance, as the CD release party continued, which included an awesome version of "Maria Cervantes", not on the CD, generating a delightful outcome by the attending, pleased crowd along with its solo execution by pianist Conal Fowkes. One can easily identify and/or imagine the magic brought the entire evening by the New Swing Sextet.
Can this be a Grammy contender for next year? We think so, and listeners and dancers around the world will also agree with us.
Recommended materials within HL...
For more information on the sextet's history, and a wonderful piece writing by Israel Sánchez-Coll, read more...
If you have any questions or suggestions, please do contact me at via email at: nelrod57@gmail.com
___________________________________________________________
Derechos Reservados de Autor
Herencia Latina