El Condado De La Salsa
By Nelson Rodríguez
June 2013
El Condado De La Salsa
The word Legendary is used too loosely when describing a musical giant, and coincidently, we know of many artists who fit this description. One of my dear friends who had many stories like this is Eddie Palmieri. We began to work together at the record label Tropijazz, where Eddie wanted to continue to record Latin Jazz, because Salsa was not an option at the time during the early 90's. Eddie and I would travel together for radio interviews or meet at the RMM offices to discuss music, theory, how to promote current and future projects.
One of those future projects was an all-star album with Eddie's past vocalists Ismael Quintana, Lalo Rodríguez, Tony Vega, Jerry Medina, Luis Vergara and Herman Olivera amongst others. Speaking of project, recently Combo Records jumped into the 'all-star' concept by agreeing to release the new Puerto Rico All-Stars album that is due before the year ends.
When people think of Combo Records, the name that pops up is the legendary El Gran Combo ("EGC"). In 1970, after the Gema Records label decided not to renew the EGC contract, EGC decided to form their own Combo Records label. In fact, the new record label outfit developed very young talented artists and musicians, especially from Puerto Rico. Combo ended up making a deal with Ralph Cartagena for distribution and management, while Cartagena headed his own Rico label and managed a record store. I frequented the store, R&R Records, located on Tremont Avenue, in the Bronx. It was literally five blocks from my home, and the place where I purchased my first 45RPM of the Beatles. Kudos go out to Ralph and his son Derek, for making the music of that grand era available digitally on Itunes, CD Baby, and Amazon. They tried re-issuing CD's for a few years, but sales weren't successful.
They re-issued three El Gran Combo CD's from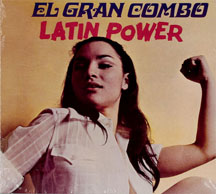 the late 60's, featuring the vocals of Andy Montañez and Pellín Rodríguez, beginning with "Latin Power," that contained many popular American tunes of the time -- a 'latino style'-like "Aquarius," by the 5th Dimension; "Build Me Up Buttercup," by The Foundations; "This Magic Moment," by Gary Puckett & The Union Gap; "Cinnamon," by Derek; and combined with some great guaguancos, including the original classic "Mundy Baja."
"Pata Pata-Jala Jala-Boogaloo" also had a few American pop hits, the hit "Estás Liquidao," and the third CD, "¿Tú Querías Boogaloo? Toma Boogaloo!," was representative of the Boogaloo/Shing-a-ling era, created in New York, and at that point, conquering the Puerto Rican market as well, or at least that's what many folks thought at the time. Promoters like José Curbelo in NY, and certain key artists, made it their mission to bury Boogaloo. It was the craze in the late 60's which kept old school Salsa acts like Puente, Machito, Tito Rodriguez and others from the 50's and 60's, from getting job performances. Boogaloo acts like Johnny Colón, Lebrón Brothers, Pete Rodríguez, to mention a few, were the headliners, and that had to be stopped. That's a story for another time!
Combo, as I mentioned, began to develop young acts and some great LP's are now available for downloading, like Luis Cintron's Orchestra Love, with the hit "Nos Uniremos," "Rumba Tropical," "Mi China," "Mujer," "Habla del Africa," and "Maria." This is a rare LP for fans of old school Salsa Dura.
Hall of fame trumpet player Roberto Rodriguez (Ray Barretto/Fania All Star/Orchestra Broadway) presented his sons Roberto Jr. and Willie as Los Rodriguez on Combo Records in 1983. Two great recordings were the result, which did not get the play they deserved.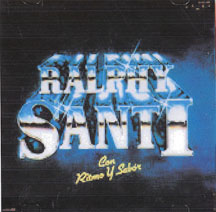 On the other hand, Ralphy Santi's 1980 "Son Caliente," and the 1981 "Con Ritmo y Sabor," fared much better in New York's airwaves.
Bassist Ray Martínez led Conjunto Típico Criollo on the LP's "Ray Martínez Presenta Conjunto Típico Criollo" and "Conjunto Típico Criollo, Volume 2," with vocalist and composer Charlie Romero.
In 1978, one of my favorite LP's being spun at any party was "Conjunto La Clave," led by pianist Monty Roca Jr., with my favorite hits being "New York," "Fracasados," "Tres Hora,s," and "El Juicio Final."
While I still seek the names of all the brothers, Los Hermanos López recorded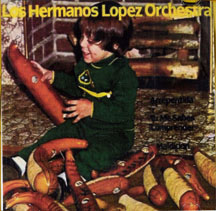 4 LP's on Rico Records (From Caguas With Love, De Paseo En Caguas, El Muerto, A Guiro Pelao) that were all very good. The band was led by trumpeter Johnny López Ramírez, and it introduced vocalist Dawin Santiago. Who can forget the back cover of "From Caguas With Love," with the band strategically standing on rock formations at the beach in their birthday suits?
Also on Rico there was the New Generation, led by Danny Mercado, who has two awesome recordings -- "Make Way" (1971) and "Agitando" (1973). Rare LP's that go for big bucks on Ebay.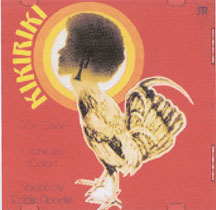 I remember, when growing up, occasions when friends would come up to tell us that Willie Colón and Héctor Lavoe were at Lehman College, the park, Orchard Beach or some club. But, when we got there, we were disappointed that it was neither Willie nor Héctor, but Orchestra Colón instead. Over the years we became familiar with Gus Colón & Orchestra Colón, who was the hot new young band on the Rico label, which made their debut with Tony Pabón y La Protesta. Colón also had 4 LP's on the label (Creeping Up, Adán y Eva-Garden of Eden, Kikiriki, Salsa Universal) between the years 1971-1975, with Eddie Aponte on vocals.
Conguero and radio show host Johnny Conga,
from Seattle, Washington, has a career spanning 48 years and showcases his talent on "Oye," his latest, which is his best by far. Listen to his combination of original tunes, with covers by Tito Puente (Mambo Diablo), Lee Morgan (Sidewinder), Mongo Santamaría (Quiet Stroll), Wayne Shorter (Footprints), and Eddie Harris (Cold Duck Time). For me, the big winner is the track "Mambo for T'Jader," written by Johnny Conga, that helps to make this a Top 10 Latin Jazz recording of the year.
I have been writing for many years about Latinos who have been making names for themselves in the Jazz world, not Latin Jazz, who should be recognized and respected as true Jazz artists, and not simply thrown into the Latin Jazz categories because of their Latin surname. Classically trained pianist Aruan Ortiz, from New York, is one of those talented musicians who has recorded straight up Jazz, as he joined forces with bassist Michael Janisch to produce The Aruan Ortiz and Michael Janisch Quintet - Live at the 2011 London Jazz Festival "Banned In London." Recorded at the Pizza Express Jazz Club, featuring saxophonist Greg Osby, with drummer Rudy Rayston and trumpeter Raynald Colom, the recording is a showcase for Aruan Ortiz and the band on five extended tracks.
Jazz guitarist Steve Khan has been recording for several decades, and a musician who has been invested with Latin music for just as long, and is constantly expanding his musical horizons by incorporating percussion for many years. Of these recordings, the 2005 release "The Green Field" is driven by a powerhouse sextet of Khan, Jack DeJohnette, John Patitucci, Manolo Badrena, Roberto Quntero and Ralph Irizarry. In 2007, "Borrowed Time" (Tiempo Prestado) had the names Brandy Brecker, DeJohnette, Irizarry, Marc Quiñones, Bobby Allende, Ruben Rodríguez, Badrena and Bob Mintzer. The latest Steve Khan gem is "Parting Shot" (Golpe De Partido), with bassist Anthony Jackson, drummer Dennis Chambers, Badrena, Quiñones and Allende.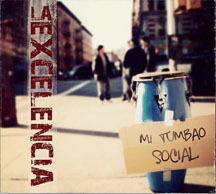 Even today those who were fortunate to see La Excelencia perform in Los Angeles, earlier this year, talk about the rawness they bring to the music and they proved to be the real deal. One of today's premier New York bands does it again with one of the top CD's of the year, "Ecos Del Barrio," with the hits "Guerrero", "Pa'l Mundo Entero", "Descarga La Excelencia", "La Economía" and "Nueva York Sin Ti." The band reminds us of what bands were like in the 70's.
When I first saw the press release for the Cubana All Star project,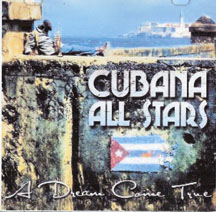 "A Dream Come True," my first thought was that this would be another Cuban CD, and I would have to wait a year to get it. At first, Latinos Unidos Record Pool sent it my way, and then came the call from Derek Cartagena that his dad was working with the project. This is a superb all-star production that will make many Top Ten lists with some of the best Cuban acts today -- Issac Delgado, Alexander Abreu, Adalberto Álvarez, Vania Borges, Pedrito Calvo, Mayito Rivera, Haila Mompie, Paulito FG, Pancho Amat, Amaury Pérez Rodriguez, César López, Rolando Luna, Juan Manuel Ceruto. Eliades Ochoa, Tania Pantoja, Eduardo 'Tiburón' Morales, Samuel Fomell, Alfredo 'Chocolate' Armenteros, Lázaro Dagoberto González, Policarpio Tamayo, Carlos Álvarez 'Afrocan', Oscar Valdés, Boris Luna, and many more. The CD has awesome arrangements, great voice pairings, in what can easily be considered CD of the year.
If you have any questions or suggestion, please contact me at the following email address:
Si tiene alguna pregunta o sugerencia, por favor contácteme al siguiente correo electrónico:
___________________________________________________________
Derechos Reservados de Autor
Herencia Latina