El Condado De La Salsa
By Nelson Rodríguez
July - August 2013
El Condado De La Salsa
When I first started to work as a professional record promoter for TH Records, I had no idea what I was getting into, but as a quick-learner with a huge desire to succeed, I was given a five-year window to build my career of well over 30 years altogether. I quickly learned that many things had not been tried before, or were easily given up as old idea, or simply gave it a new twist.
My basic instinct told me to provide service were it had never been given, treat people with respect, and saturate the market with promotion. I also treated artists as regular human beings like all of us, instead as an employee treated by many record label companies. Voilà! It worked, and I did flourish at both record companies in the 80's and 90's, respectively at TH and RMM.
One of those relationships of hundreds developed, during the last four decades, was with the duo Louie Ramirez & Ray De La Paz at RMM. These gentlemen were a key component to the success of "Noche Caliente," in the introduction of Salsa Romántica, also known as Salsa Sensual, in the early 80's. Thereafter, these two artists put together their own salsa bands, and years later reformed to record at RMM. After the second release called "Otra Noche Caliente," recorded at Variety Recording Studio in New York, the firm lost its contract with Louie Ramirez. Ray continued and completed the CD "Prepárate Bailador," that was dedicated to the great Louie Ramirez, an arranger/producer who was always ahead of the times. Every interview we went to, and especially the days travelling to out of town radio stations and record stores, was an adventure in artistic ideas for the future, and comedy central, as both of these gentlemen were two of the funniest I ever met. Louie is in my Top 10 best arrangers of all-time list and Ray in my Top 10 best vocalists of all time. It does not get any better!
What makes our music so exciting is the variation of vocalists and bands from all corners of the world that record Salsa, Latin Jazz, Merengue and Bachata and, in some cases, fuse folkloric elements or use concepts that keep our music fresh. You can see that in the recordings I introduce you to each issue here at Herencia Latina.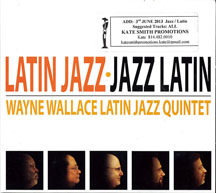 Veteran trombonist Wayne Wallace Latin Jazz Quintet is one of those artists that continues to release one gem after another, and fuses many different musical genres with Jazz. His latest, "Latin Jazz-Jazz Latin," extends the quintet, with many special guests, including Pete Escovedo, John Santos, Orlando Torriente, Jesús Díaz,, on superb performances such as "A Ti Te Gusta", "Estamos Aqui", "Melambo", "La Habana", "Pasando El Tiempo" and "Puertas y Caminos." Two special mentions should be made: guest flutists Mary Fettig and Elena Pinderhughes.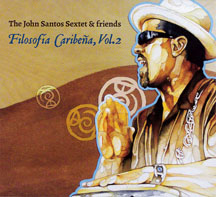 The John Santos Sextet & Friends are back again with another true genius recording, paying homage to the pioneers and creators of our musical roots, with "Filosofía Caribeña, Vol. 2" (a kickstarter project). The sextet includes Dr. John Calloway, Saul Sierra, Melecio Magdaluyo, Marco Diaz and David Flores. The special guests (the friends) of over 20 artists include Jerry González, Orestes Vilató, Steve Turre, Orlando 'Maraca' Valle, Jerry Medina, and some of the Bay Area's best musicians. My picks here are "Por Tus Hijos," "Ayiti," "Domingo Yaucano," "Cuando Del África Salí," and "Sin Ti No Hay Tú."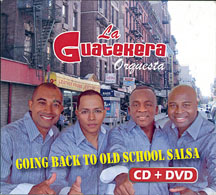 Composer/Arranger Carlos Aragón formed his band La Guatekera Orquesta in New York back on September 2011, presenting his Salsa with afro-Colombian roots, while introducing three young vocalists: Osman Ocoro, Christhian Golu and Guille Ituyan. The CD, "Going Back To Old School Salsa," comes with a DVD, and the standouts are "Homenaje Al Callao," "La Puerta De Oro," "Ya No Hay Remedio," "La Sucursal Del Cielo," "Si Pudiera De Nuevo," and the lead hit "El Calvo Paluzzi."
From the Hudson Valley, in New York, comes Soñando, led by pianist Jeremy Baum, and while the CD, "Sueño Del Valle," is from 2002, the music is still very fresh today. The tracks "Sueño Del Valle," "Rumba Buena," "Tradición Latina," and "Jaf's Descarga" can easily make any radio playlist.
Irakere featuring Chucho Valdés, recorded "Live at Ronnie Scott's, Birmingham - The 1995 BBC Recording" is now available on CD, and released on Irakere's 40th anniversary. The entire CD is fantastic and the band featured on May 27th had Leo Vera, Carlos Manuel and Mayra Caridad Valdes on vocals, with musicians that included familiar names, such as Carlos D'l Puerto, César López, Juan Munguia, Enrique Pla, and Adalberto Lara 'Trompetica.' Chucho Valdés and his Afro Cuban Messengers also have a brand new CD, "Border Free," out.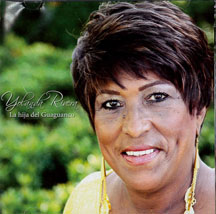 My favorite Sonora Ponceña era was the one that included Luigi Texidor and Yolanda Rivera. When Yolanda Rivera left the band, the band itself thrived, but it was not the same. Many years since that time have passed, and Yolanda finally has a CD that will leave a stamp of her golden voice for future generations. "La Hija Del Guaguancó" swings from beginning to end, with the hits "La Hija Del Guaguanco," "Mi Rumba," "Yo No Tengo Marido," "Que No Me Paren La Rumba," "Defendiendo Verdad y Honor," and "La Blanca Rumbera."
Kudos is due to Luis 'Melaza' Centeno who produced the CD for his label, Melaza Records, in Los Angeles, California.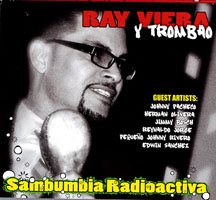 Ray Viera y Trombao has hit the jackpot with his best yet, with the hits "Carta a Mamá," "Todos Somos Latinos," "Descarga Eslavitud Moderna," "Calla," "Los Hermanos Del Sabor" (with Herman Olivera), and "Pórtate Bien." The CD "Sambumbia Radioactiva" should be a chart stopper well into 2014. The guests on this project are Johnny Pacheco (for whom Ray Viera did lead vocals), Jimmy Bosch, Pequeño Johnny Rivero, Reynaldo Jorge, and pianist Edwin Sánchez, who is the musical director.
From Australia comes Chukale (Afro Cuban Salsa Ensemble), with their CD "Expedition," that features two Cuban greats as guests: Felix Baloy, Sixto 'El Nene' Llorente & Policarpo Tamayo. It's 'Salsa Down Under' at its best.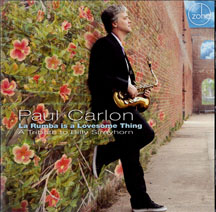 Saxophonist Paul Carlon has one of those concept recordings that I love. His CD, "La Rumba Is a Lovesome Thing" (A Tribute to Billy Strayhorn), features compositions by the first Jazz arranger I learned about and fell in love back in the late 60's. Strayhorn was a key composer for Duke Ellington and the songs here are given a Cuban touch with guests Chembo Corniel, Alex Norris, Ben Lapidus (Sonido Isleño) and Pedrito Martínez (who has a hot rumba CD out). Jazz radio hits can easily be "Take The 'A' Train," "Johnny Come Lately," "Sweet And Pungent," and two tracks Strayhorn co-wrote with Ellington: "Day Dream" & "Tonk."
Latinos Unidos Record Pool continues to provide some gems that have led me to be in contact with some awesome artists, including Pachito Alonso y su Kini Kini's "30 Con Mi Tumbao," Achy Lang y El Afro Cuba's "Abriendo El Camino," Orquesta La Innovación's "El Descubrimiento", Conjunto La Revuelta's "Salsa y Protesta," and Carlitos Medrano.
Percussionist Carlitos Medrano is one of the new surprises from Cuba, with his debut "Sabor De Mi Cuba," with the sure-shot hits "Ni Orsubo Ni Ire," "Mi Tumbao," "Pa Eliel, Pa Bobby, y Pa' Changuito," "El Criticón," and "Un Son Para Juana." On this release, the highlight has to be vocalist Aldo Isidro Miranda Álvarez.
"Final Night at Birdland" is the latest gem by pianist Arturo O'Farrill and The Chico O'Farrill Afro Cuban Jazz Orchestra; it is a highlight of Chico's work divided into "Three Afro Cuban Jazz Moods," "Delirio," "Tanga Suite," "Havana Blues," and "Fathers & Sons, From Havana to New York and Back Again." After 14 years, the orchestra's residency at Birdland ended on July 26, 2011 with this concert. The orchestra featured some respected names, such as John Walsh, Pete Nater, Jim Seeley, Vince Cherico, David Bixler, Tony Rosa, Peter Brainin, Joe González, Sam Burtis and special guests Michel Herrera and Arturo's sons, Adam & Zachary O'Farrill.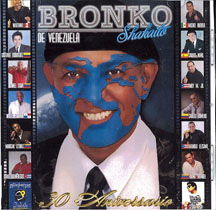 From Venezuela, we got Orquesta La Bronko de Félix 'Shakaito' Suárez celebrating "30 Aniversario," with guest vocalists Manolo Lescano, from Puerto Rico; Carlos Nuño from Spain; Gustavo Rodríguez & Carlos Romero from Colombia; and Willie Panamá & Irving Manuel from Venezuela.
Nino Segarra also celebrates "30 Años De Trayectoria Musical," with 16 tracks that are highlighted by "Señora,""Olvídala" (with Johnny Rivera), "No Me Digas No,""Con La Puerta Cerrada," "A Fuego Lento," "Indefinicion," and, my favorite, "La Pasión Pide Un Receso."
If you have any questions or suggestion, please contact me at the following email address:
Si tiene alguna pregunta o sugerencia, por favor contácteme al siguiente correo electrónico:
___________________________________________________________
Derechos Reservados de Autor
Herencia Latina