The 3rd Annual West Coast Salsa Congress
By Eric E. González

(recuperado de Oasissalsero.com)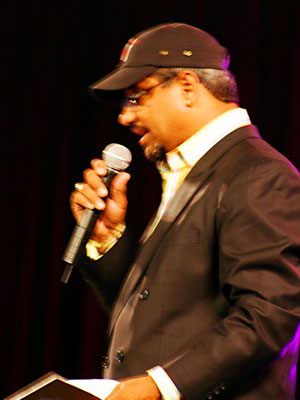 (Foto propiedad de ©Sergio Lleonart)
"Everybody wants to work with Albert Torres," told me a famous booking agent from New York City. Who, in all his/her senses, wouldn't? I would-in a second. The truth is that the man has the Midas touch. Consider this: 1. As a producer/promoter, he has brought top acts to Los Angeles, such as Johnny Pacheco and His Stars (i.e. The Fania All Stars), Larry Harlow and the Salsa Legends, Oscar D'León, Sierra Maestra, Maraca, Wayne Gorbea, Johnny Almendra y Los Jóvenes del Barrio, Tito Nieves, Orquesta Aragón, Los Van Van, Bamboleo, and many others 2. He has continually supported local bands, such as Johnny Polanco y su Conjunto Amistad, La Palabra, and Son Mayor. 3. He has provided technical advice about salsa dancing to Hollywood productions, such as "Mambo Kings", "Out to sea", and "Dance with me". And, most important, 4. He has been responsible for organizing the West Coast Salsa Congresses. The first two were known as the "The Bacardi West Coast Salsa Congress". This year, without Bacardi's involvement, Albert went solo and renamed it the "3rd Annual West Coast Salsa Congress". And it was, without any doubts, one magnificent fiesta and accomplishment.
Albert Torres Productions' slogan is: "Creating Unity Though Salsa", and that is precisely what he accomplished! The event, which took place from May 25 to May 27, 2001, at the Hollywood Park and Casino, in Inglewood, California, brought approximately 8,600 persons. All these folks came from 45 different countries from throughout our planet, and from 245 cities from the United States.
Dancing is the main purpose of this congress. This is truly a dancer's dream and paradise. During the congress' three days, there were salsa dancing workshops for everybody. These workshops included beginner, intermediate, and advanced levels. There were also specific seminars, such as the "Cardio-Salsa", taught by distinguished instructor Laura Canellias, and "Workshop on building a successful dance studio", provided by David Melendez. And, of course, there were dance team performances, which generated incredible crowds. This is what the audience looks for at this event. It is just amazing to see the variety of teams: their styles, schools, preparation, fashions, attitudes, etc. Creativity is the order of the day — and it shows.
The main star of this year's congress, however, was famous bassist Israel Lopez "Cachao". Together with his brother Orestes, Cachao is attributed the creation of the mambo; as such, he really brought class to this celebration. And what a gentleman he was! As tradition goes, this year he received the congress' award for his contribution to Afro-Cuban Music. Awards were also given to his manager, Richie Bonilla, and to percussion maestro and Fania All-Star member, Roberto Roena. Roena, in addition of being a world-class bongocero, is also a recognized dancer — a trait that he shared with his late uncle, Anibal Vasquez.
Maestro Cachao also participated in an interesting press conference on the first day of the event, in which he answered questions from the press and audience. At a workshop the following day, he also delighted us with some of his memories and anecdotes. This workshop was preceded by a screening of the film "Cachao: como su ritmo no hay dos", directed by Andy Garcia. During this workshop, we also got to hear New York's master booking agent, Richie Bonilla, who shared some of his stories and point of views with the audience. This was a very special moment for those of us who were lucky enough to be there. It was not such a special moment for those who didn't stop dancing in adjacent areas, considering the fact that the man credited for creating the very same dance that they were dancing was in that room.
And then there was the music. The dancing may be the main reason for this event, but the music is the center of it all. Every single day of the congress included a great band, and Albert outdid himself this year. How? Well, let's go into detail:
1. Friday night showcased the talents of a favorite local band: Johnny Polanco y su Conjunto Amistad, who, as always, is a crowd pleaser with his aggressive brand of salsa. Later on came the boys from New Jersey: Los Hermanos Moreno. These guys really rocked the house! They know how to put a good show, especially its leader, Nelson Moreno, who played the trombone like it was done in the seventies. They interpreted some of their most popular tunes, such as "Dale Jamón" and "Quimbombo". A great surprise for truly yours was when the band played Willie Colón's "La Murga". New Jersey has a sound, and it's represented by Los Hermanos Moreno. Keep going, fellas, can't wait to see you again!
2. Saturday night was chosen for the presentation of the main dish — musically speaking, that is. This was the moment for el maestro, Israel "Cachao" Lopez and his band, who didn't let us down - - it was truly worth the wait. This orchestra included some heavy weights in its ranks, such as timbalero virtuoso Orestes Vilató, pianist Alfredito Valdés, Jr., flutist Danilo Lozano, and others. Of course, I also have to mention Andy Garcia, who is the band's bongo player. Cachao's group mostly played tunes from his latest CD, "Cuba Linda", and the orchestra was very tight and powerful. During one tune, Roberto Roena joined the band to play the bongos; Andy Garcia took the congas. It was great to see Roberto sharing the stage with the masters. A moment to remember, for sure. Also scheduled to perform that day, were local favorites Freddy Crespo y Su Mambo Review and Son Mayor.
3. For this writer, Sunday was "the" day. The reason for this is that Sunday's night included the presentation of two of my favorite bands: one newcomer and one old-timer. The opening band was SonSublime, New York's newest charanga (Actually, it is a rebirth of Charanga Sublime, very popular in the seventies). I had a lot of anticipation for this group. Their new CD, "Irresistible", is just great and one of the year's best so far. And they kicked some serious butt. Wow, what a band! During their presentation, their repertoire included almost all the tunes from their CD, which was a blessing. I really wish them the best; they deserve it.
What came next was gigantic. Yes, sir. When Roberto Roena y su Apollo Sound took the stage, there was nothing left to do. This is a master at work. Memories from the Fania years came back. And he is a true showman; he can still dance and his band is as hot as ever. They played a lot of our favorites, ending with "Coro Miyare", in which Roberto invited to the stage a teenager by the name of Manolito Rodriguez, who did the famous bongo solo in that song. He also joined Roberto in his dancing and cowbell playing. This kid is amazing and has a bright future in percussion. He also played Friday night with Los Hermanos Moreno, going "mano a mano" with Nelson Moreno at the timbales. Once "Coro Miyare" was finished, the crowd demanded, "otra, otra, otra" (more, more, more), and Roena came back with "Tú loco loco y yo tranquilo". What else can you ask for? Gracias, Roberto — tell them how it is done! An exciting band from San Francisco, Julio Bravo y su Orquesta, was scheduled to provide some good salsa for the dancers earlier that day.
Well, that's it: The 3rd West Coast Salsa Congress in a nutshell. As I said before, when it comes to salsa music, Albert Torres has the Midas touch. Successful is not the best word to describe this congress. "Super-successful", perhaps? Albert told me recently that his dream is to produce similar events in Cuba and the motherland, Africa, where everything began. I am sure that he can and will do it. If there is one person that can accomplish this venture, is this talented Nuyorican. Good work, Albert! As usual, can't wait for next year!
The following is a list of events which are produced or co-produced by Albert Torres Productions:
August 10-13, 2001 Barcelona, Spain
1st Mediterranean Salsa Congress
August 17-19, 2001Catskills, Upstate, New York
1st East Coast Salsa Congress
September 28, 2001 Berlin, Germany
Mini Congress
October 21, 2001 Paris, France
Mini Congress
November 7-8, 2001 Tokyo, Japan
3rd Annual Japan Salsa Congress
December 8-9, 2001 Guadeloupe, FWI
2nd Annual Salsamania Salsa Festival
March 2002 Miami, Florida
First Congress (in Planning)
April, 2002 Havana, Cuba
1st Salsa Congress (in Planning)
May 24-26, 2002 Los Angeles, CA (Memorial day weekend)
4th Annual West Coast Salsa Congress
For more information: albert@salsaweb.com, www.salsaweb.com/albert
I want to express my gratitude to Albert Torres and Cynthia Semon for the all their assistance and generosity. As always, their support and hard work is truly appreciated. When it comes to organization and success, nobody beats them. Finally, my sincere thanks to my "brother in arms", Bruce Brewer, for sharing the adventure all the way. To my new friends, Mario and Guillermo Castro, gracias for all the fun. We make a good team, gentlemen.
¡Hasta el otro año, salseros de acero!