The Fifth Annual West Coast Salsa Congress
By Eric E. González and Jorge E. Hasbun Hasbun

(recuperado de Oasissalsero.com)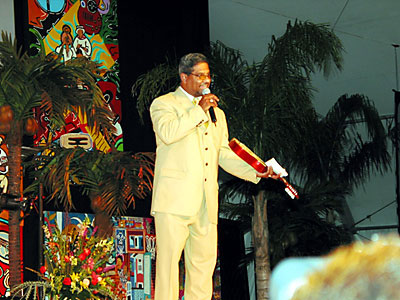 (Foto propiedad de ©Sergio Lleonart)
"That's the way that it's supposed to be done", sonero extraordinaire Hermán Olivera told us, minutes after his fabulous performance with the Johnny Polanco Orchestra. Olivera's words mean a lot, because they also symbolize the success of the Fifth Annual West Coast Salsa Congress. Once again organized by Albert Torres -- without question the best impresario in salsa music --, we have to conclude that this year's congress has been the best of them all.
Held in the Hollywood Park Casino in Los Angeles, California, on May 21 –25, 2003, this was the place to be for all salsa music lovers and dancers. Every year is definitely better than the previous. For the last four congresses, both the dance competitions and the salsa bands presentations took place in one, big room inside the casino's main building. However, because the crowd at this event keeps increasing in size, Albert decided that a special structure – a huge tent – should be erected to run the dancing contests this year. The salsa bands would remain in the main location. Needless to say, this was a positive change and really made a difference in the quality of this huge party and comfort of the attendees.
THE DANCING:
Although music is our main interest, everybody has to recognize that dancing is the core and main reason of the West Coast Salsa Congresses. Without the dancers, we could not celebrate this important event and the musicians could not be paid. It wouldn't happen.
The increasing number of attendees at this year's congress was reflected, in part, by representatives from many countries that got together in this Woodstock for salsa lovers. In all, 38 countries, representing 112 of their cities, sent happy dancers to California. These countries were Argentina, Australia, Austria, Belgium, Bermuda, Brazil, Bulgaria, Canada, Chile, China, Colombia, Cuba, Dominican Republic, Ecuador, Egypt, France, Germany, Guatemala, India, Israel, Italy, Japan, Korea, Lebanon, Malaysia, Mexico, Netherlands, Norway, Singapore, Spain, Sweden, Switzerland, Syria, Thailand, United Arab Emirates, United Kingdom, and Venezuela. As you can see, salsa is really exploding all over the world.
The United States was also represented by a huge contingent of dancers, coming from 210 cities in 29 states, as well as Puerto Rico and 14 of its cities. These states were: Alaska, Arizona, California, Connecticut, Colorado, Delaware, Florida, Hawaii, Illinois, Indiana, Maryland, Massachusetts, Michigan, Minnesota, Nevada, New Jersey, New Mexico, New York, North Carolina, Ohio, Oregon, Pennsylvania, South Carolina, Texas, Utah, Virginia, Washington (State and D.C.), and Wisconsin. Alaska? How about that? Chilly Willy does the mambo!
As it happens every year, a fairly large number of dancing teams came to the congress to show their stuff. The names of these teams are as creative as their styles and attires. Here are some examples: Heartbreak Boyz, Los Caballeros de la Salsa, Salsa Locos, Tropical Gem, Tribu Nueva DC, Chimpun Callao Dance Co., Royalty Salsa Kids, Salsa Viva en Sapporo, Majesty in Motion, Club Cesar y sus Traviesos, Salsa Soleil, Salsability, Pablo and Jorge UV2, Salchevere, Salsational, Sin City Salseros, Tinkache, Los Soneros del Swing, Papa Tambor, Del Este, April on 2, and many others. Anybody needs a name for a band?
THE MUSIC:
This is Albert Torres' real specialty, even though he claims that it's the dancing. Nobody beats him here. He knows his music. Yes, sir. This is what he does best. He can bring any pretty-face-boy-I-can't-sing-but-the-ladies-love-me band and make big bucks by doing so. In fact, most promoters do that; they bring the marketing-generated "idols" that you hear on the radio -- the incredibly bad, commercial salsa that the big corporations promote. You know, the ones that we can't -- the more than we try – totally eradicate from our lives. You know them. But Albert doesn't do that; he always brings THE BEST that there is in the salsa circuit, sometimes at a high personal cost. But he always does it, which is at times sad, because many, if not most, of these dancers wouldn't know the difference; they would dance to Topo Gigio playing the banjo and wouldn't notice or care. However, thanks to Albert, we have been able to see and hear some of the best salsa bands of our times. In the past, this congress had the privilege of having Roberto Roena y su Apollo Sound, Cachao, Andy Montañez and Orchestra, Son Sublime, Sonora Carruseles, José Alberto "El Canario", and others. Do you hear these bands on commercial radio? Just asking.
In our very humble opinion, this years' music was the best. Why? Easy: Ray Barretto with Adalberto Santiago, Oscar D'León, and Richie Ray with Bobby Cruz. If you know about salsa music, then we rest our case. If not, please keep reading.
The good music began Thursday, May 22, at the Los Angeles Airport Hilton, which served as base camp to most of the people that came from out state to attend the congress. That precious night, we were lucky to see one of the best local bands, Johnny Polanco y el Conjunto Amistad, bring the house down. That night, too, we saw Hermán Olivera sing his life out. We have seen him before, but this very night he demonstrated why he is one of the best soneros in the business. At the end of the presentation, when we approached them for congratulations, that was the moment when he said, "That's the way that it's supposed to be done." And he was right. In that show we also witnessed Jimmy Bosch mightily jamming his trombone with Polanco and Dan Weinstein, who were also in top form. In addition, veteran singer Ray de la Paz provided evidence that he still has his chops. He not only sang, but also gave us a rare performance of conga playing. We were told that Ray Barretto and Adalberto Santiago might be joining the orchestra, but it didn't happen. This, definitely, was a great beginning for what was about to come the next days.
Friday, May 23, was anxiously anticipated by all of us salseros de acero, old school salsa nuts. This was the day in which we were going to witness the historical reunion of two Fania All-Stars: famed conguero Ray Barretto and veteran singer Adalberto Santiago, who hadn't performed together in a long, long time. The opening act for that night was Freddie Crespo and his Mambo Review, a great band from Southern California that is a dancer's dream. Their sound will transport anybody to the glorious Palladium years. The horn section did some great jamming. We are still waiting for these fellows to make a recording. The world needs to know about them.
Barretto's orchestra didn't disappoint. With a powerful band that included Chris Washburn (trombone); Raúl Agrás, John Bailey, and Willie Oleneck (trumpets); Barretto (congas); Mark López (bongó); Jimmy Delgado (timbales); Rubén Rodríguez (bass); and Louis Perdomo (piano), we got what we were craving for. Unfortunately, the orchestra only performed six tunes: "Al ver sus campos", "Margie", "Alma con alma", "Seguiré sin soñar", "Bruca Manigua" and "Quítate la máscara". Despite that, these six numbers provided for a great historical and unforgettable occasion. The orchestra had that Barretto sound that we miss dearly, and Adalberto still is a mayor force to be dealt with – he was outstanding when he performed his classic bolero "Alma con alma". There were some concerns in regards to Santiago singing a bolero in a salsa congress, which could have had disastrous results. But, in this case, it was magnificent! It was so good, that Albert Torres and Maya, his wife, went onstage to dance to this song, celebrating in that way their wedding anniversary. "Bruca Manigua" served to introduce the awaited and crowd-pleaser "Quítate la mascara", which was worth the price of admission by itself. Jimmy Bosch joined the band and generated some spicy moñas with the powerful horn section. It was a treat seeing him and Chris Washburn blow those trombones with absolute passion, and Jimmy Delgado blasting one of the best timbales solos that we have seen in our lives. But that was not all. Hermán Olivera and Ray de la Paz also went onstage and shared the vocals with Adalberto Santiago. As you may remember, de la Paz was a member of the Barretto orchestra at one time, with whom he recorded some hits. Can you see or imagine this picture? It just doesn't get better than this. Awesome!
Activities for us salseros de la mata began early the next day, Saturday, May 24. At about noon, salsa geniuses Richie Ray and Bobby Cruz were available for a question and answer period, in which they talked about important aspects of their lives and music, such as their conversion to Christianity, the origin of the term "salsa", and the creation of their masterpiece "Sonido Bestial". Their manager, Richie Viera, also talked about some important aspects of the career of these two giants. This meeting lasted for about an hour.
That night was also a memorable one for salseros of all ages and tastes, because Oscar D'León was scheduled to perform. Heating things up were Albert Torres' adopted boys: the very dependable Johnny Polanco and Conjunto Amistad.
This was not the first time that Oscar D'León graced this congress with his presence. He was also featured in last year's event. His presentation was such a success, that he was asked to return this year. D'León's band is the only one that is successful with both the commercial and non-commercial audiences. He's guaranteed to fill up any location or celebration, which he, as predicted, did in this congress. His show was sold out, and many people didn't make it in.
Because of some unforeseen problems, D'León didn't start playing until after one in the morning. But the people was there and he was, well, Oscar D' León. His band, as always, was powerful and well-rehearsed. They began with an instrumental tune, which served to create momentum, after which "El Faraón de la salsa" made his appearance. As usual, he performed for almost two hours, with a non-stop potpourri of some of his most popular hits, which included "Llorarás", "Bravo de verdad", "Monta mi caballo", "Me voy pa Cali", "Ven Morena", "Melao de caña", "Mi bajo y yo", "El Frutero", "Que bueno baila usted", and others. This year, he incorporated "Qué gente averigua", popularized many years ago by Mon Rivera. As it always happens in his shows, some uninvited ladies and gentlemen went onstage to dance next to Oscar, who knows how to keep his cool and be a good sport. An extended version of "El Frutero" featured an unknown singer who was invited onstage, and assisted Oscar with his soneos. There was also a moment during this great show that Jimmy Bosch was invited to do a delightful trombone solo. He was joined by D'León's three trombonists for some serious jamming. Oscar D'León is one intense performer that will always please his fans. To this date, nobody does it better. (Please read note at the end of this article)
The last night of the congress was very special: Richie Ray and Bobby Cruz, two of the most creative talents in salsa's history, were the featured artists to officially end the event. In fact, Albert Torres always plays their music at the closing of the congress every year, so this was one truly significant moment.
The night began with the sounds of Son Mayor, another popular orchestra from the city of the Angels. Their success is the result of blending salsa with hip-hop and other musical genres. They are one of the few bands in the west coast that play Cuban timba. Their presentation warmed the audience for the night's main dish.
Richie Ray and Bobby Cruz went onstage a little bit after midnight, and played non-stop. And we have to tell you that it was a privilege to see these two salsa icons perform after so many years. They have an aura over them that is hard to describe; maybe we can call it a religious experience. They don't make them like that anymore. They opened the show with an instrumental potpourri of their hits, followed by "Pancho Cristal", which automatically sent the crowd into a divine frenzy. Here we got a fiery solo of timbal by Víctor Ortiz. They continued with "Timoteo" and "Los Fariseos", two hits from their Christian recordings, followed by "Agúzate", "Jala-Jala", "Mi Mayoral", "Amparo Arrebato", "Bomba camará", "Guaguancó Raro", and "Juan en la ciudad". For their closing song, they chose the classic and eagerly awaited, "Sonido bestial", featuring a smashing timbales solo by Richard Bravo. At one point, Bobby Cruz held the bongó in his hands, in order that Bravo could beat them during his solo performance. But the fans wanted more, and "Los Durísimos" returned onstage and played "Cipriano". The band was comprised of Víctor Ortiz (timbales); Richard Bravo (bongó); Daniel Berroa (conga); José Velásquez (bass); Mario Rivera Jr., Bill Francis, and Angel Hernández (trumpets); Cheito Quiñonez, José Manuel Gutíerrez, and Angie Ray on chorus. Cheito Quiñonez, if you recall, is also a gifted trumpet player and singer (He sang in "Sima", Johnny Pacheco's last studio recording). As we mentioned earlier, it was a privilege to see Richie Ray and Bobby Cruz playing live, in their first performance at the west coast in many, many years. A dream that came true for many of us, old-fashioned salseros. We need them back as soon as possible.
After the Richie Ray and Bobby Cruz orchestra presentation, the Fifth Annual West Salsa Congress slowly came to an end. As expected, it was a huge success – the best ever --, and a mayor, well-deserved triumph for Albert Torres and his production company. We are sure that those who attended this year can't wait for the next one. These things are definitely addictive.
Note: As we write these notes, Oscar D'León was recovering from a heart attack – three in a row, is our understanding – that happened while performing in Martinique. Apparently, after completing his scheduled shows, he added another one that probably affected him physically. Anybody that has seen him performing live with his band, knows that he gives a 100% of his energy. We just have to pray for our brother. He is one in a million and always cares about his fans and his music.
Acknowledgements: Our sincere gratitude to our friends Albert and Maya Torres for making us part of this wonderful event. Thank you is not enough. We also thank their wonderful staff: Amanda Barrera, Fernando Barrera, David Burke, Juan Manuel Sánchez, Carlos Mendoza, and many others. They are truly the best. Of course, our presence in the congress would have not been possible without the help of our dearest friend, Cynthia Semon. She's truly a good human being and it is a privilege to know her. Love you, girl. Gracias to Richie Viera for all the help that he provided with Richie Ray and Bobby Cruz; his knowledge on these icons is invaluable. We also thank Richie Bonilla for all his support; it was good seeing him again. Special thanks to Jorge López for his assistance during Ray Barretto's presentation. Muchas gracias to our friends Emilio y Nelly Santiago, who came all the way from Panamá to witness this magnificent event. Finally, thank you very much to Bruce Brewer, for the love and companionship though all these years. It is always a pleasure working this congress together with him. There is no better partner.