Class is not dismissed! – A Conversation with 3D's Michael Tate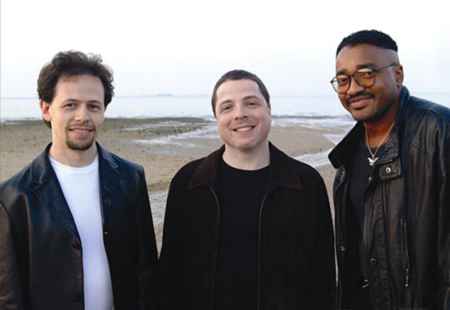 Chris Amelar, Michael Tate y Lenny Underwood
By Eric E. González
Photos courtesy of Michael Tate
New York City was once a powerhouse in salsa music. Since the inclusion of Afrocaribbean rhythms in this magnificent city, and its evolution all the way to the seventies – during the glorious years of the salsa boom --, and part of the eighties, New York was the place to be. This, sadly, is not the case anymore.
As we know, the "classic" salsa period was replaced by the salsa romántica or salsa monga years. Salsa romántica, in turn, was substituted by the merengue fever. As the ethnic population in the Big Apple changed, the new generations of Latinos in New York shelved the music of their parents, and welcomed hip-hop and others tendencies, the latest being reggaeton. In short, Latin music in New York these days is in transition -- "work in progress," if you will.
Even though we know that the splendor of the past will probably never come back, salsa is kept alive, against all odds, by a group of warriors that respect the traditions of their ancestors. One of these warriors is a band that goes by the name 3D – Ritmo de Vida, which has been very active in town, delivering their particular brand of music, which includes some of the best salsa. Their last two recordings, "Ritmo de Vida" and "Que Siga la Rumba," are clear evidence of this.
This writer had the golden opportunity of interviewing Michael Tate, one of the leaders of the band. He is a gifted and talented percussionist, who represents to future of salsa and music in general, because 3D, in addition of playing quality salsa music, also incorporates assorted rhythms of our planet, generating an exquisite blend that take the music, as we know it, to next level.
Acknowledgements: My sincere thanks to Michael Tate, for all the patience that he had throughout this interview, which was conducted when this writer was going through some trying times. My gratitude also to Israel Sánchez-Coll, for his unconditional help in making this piece look great to the eye.
Eric E. Gonzalez (EEG): Let's begin from the beginning.
Michael Tate (MT): I was born in Queens, New York, on April 17th, 1969. I grew up in the New York/New Jersey area, with stops in Reno and Lake Tahoe during my formative years.
I am the only one in my family that is a musician. My parents are not musicians; however, my dad played the records of Miles Davis, Tito Puente, Frank Sinatra, and Ella Fitzgerald in my house. He was a big fan of Jazz music and saw these artists at Birdland and the Apollo Theater.

I started playing drums in 7th grade. I was delayed; I wanted to begin at 6 years old, because my first influence and exposure to drumming was at about that age. I was on vacation in St Thomas, staying at Bluebeards Castle. One night, I heard the band warming up
and begged my dad to let me stay in the bar and listen. I remember a conguero, a man dressed in dark red suit. He looked like a giant to me; I was only a little kid -- everyone looked really big. He let me stand next to him and watch him play and hit the drums -- I was hooked. I recall that it was a lounge group playing R/B, Jazz, Island Music, etc. My dad said that we had to go, that he had a headache, and I would not leave, no matter what. That was it; I stayed the entire night.

As a kid, my dad would throw surprise birthday parties for himself and he had a friend who knew a band that played parties. They were called the "4 Sounds." I used to just stare at the drummer for hours and he showed me my first basic beat; believe it not, I still have
a picture of me playing his drums at 11 years old. Nice guy.

Becoming a musician in my house was not the chosen profession. I do not remember saying this is what I wanted to do with my life; I just did it. I took lessons and practiced. It was tough to convince the parents that I was really going to do this; they were concerned about this choice.
EEG: Where is your family originally from?
MT: Family background from Czechoslovakia and Norway, with the spirit of Trinidad mixed in from a dear family friend. She would lay her hands on me and recite things that I feel passed into my soul… She passed away many years ago; however, I still feel her today.
EEG: We know about how you got hooked on the rhythms at such an early age. How did you evolve as a musician? Any professional influences?
MT: I evolved as a musician with the study of the Drumset, and with teachers, such as Yogi Horton (a very dear friend and mentor), Bonny B (friend and major influence), Dom Moio (showed me what I did not know, real educator) Frankie Malabe (sent me to Record Mart for real Latin Music), Jim Chapin (legend, who is part of the history of drumming), and many other excellent musicians, like Herman Olivera (shared his music and culture with me), as well as my very good friend Lino Iglesias (a true poet and gentleman). I have been very fortunate to have had the opportunity to play and meet musicians who were kind enough to share their music and culture; I will always cherish this. These are the one's that shaped my life… from a musical perspective. I always came with an open heart and willingness to listen; it is never just a beat! I am still learning about all the music and styles that I write and perform -- class is not dismissed.

EEG: Can you please tell me a little bit more about your relationship with the people that you mentioned, and what did you learn from them?
MT: Yogi Horton was one of my most influential teachers and dearest friends, one of the funkiest and strongest drummers ever. Yogi played with everyone from Luther Vandross, The B 52's, Claudio Roditi, Hazel Scott, and many more -- a well recorded drummer. He taught me about the music and motion of rhythm, how to groove and make a rhythm musical. It did not matter the style. Always said, "Play like it is your last dying breath." Oh, yeah, and to really count of a band like you mean it! His spirit lives in me when I play and teach everyday. Gone way too early.

Jim Chapin is one of the cornerstones of jazz drumming; he is about 90 now. He showed me how to play in a very natural way. Drumming, as we all know, is very physical; the body motion is important. Very wise man -- it was like hanging' with Yoda.

Bonny B is a great friend for many years, who opened the door to the Caribbean. We played opposite one another in Atlantic City. He shared his culture and unique flavors of Soca and Calypso music. Great drummer and singer. I clearly planted the root for what was to come from watching him. We finally recorded together on "QUE SIGA LA RUMBA" this year.

Frankie Malabe showed me how to take traditional percussion rhythms and bring them to the drumset. Another great man gone to soon. I still have some of his patterns in my bag! Oh, wait, he sent me to the World Famous Record Mart in the Time Square Subway station, to buy my first Latin records -- Tito Puente, Eddie Palmieri, Irakere, Los Van Van…
Dom Moio was a teacher who showed me that there was a lot more to learn about playing the drums. He gave me a structure; I was more of a street player up to this point. He helped turn some lights on!

Lino Iglesias, to me, is a Latin music historian, composer and very close friend. He and Herman Olivera (an encyclopedia of Latin music) opened their hearts and shared their music and culture. These lessons and their friendship are very special to me. Lino wrote the Spanish lyrics and translations on both of my CDs. He is a poet in English and Spanish. A very wise man.
EEG: Where did you go to school?
MT: I went to school in NJ and NY, and the University of the Musical Streets. However, class is still in session, it is not dismissed. I have a lot to learn.
EEG: Have you ever attempted to learn to play steel drums? It seems that they, as you mentioned earlier, caused an impression on you at a very young age. They are a solid presence in your recordings.
MT: I never studied the pan at all; love it -- maybe one day. I watch it very closely and include it in some of my recordings. Piano is on the list once I get a manager and booking agent. Steel Pan to me is so cool. I used to play with a man named Colridge Babour; he was a cross between a great timbales player and a piano player -- excellent musician.
| | | |
| --- | --- | --- |
| Lenny Underwood | | Michael Tate |
| | | |
| --- | --- | --- |
| | Chris Amelar | |
EEG: What were your first musical experiences or groups that you played with?
MT: Some of my musical experiences, well they all make you remember something. I have played with everyone, from Kid Creole and the Coconuts, to the Drifters, Jazz bands, R&B groups, Steel Pan bands, Gospel Choirs (New Jersey Mass Choir, with Cissy Houston)… So many different experiences that helped shape me as a musician and person. Kid Creole gave me lots of ideas. This guy played many styles, like Soca, Salsa, R&B etc... Much personality and humor!
EEG: I saw Kid Creole in the eighties, and remember seeing a guy nicknamed Coati mundi. I forgot his real name, but he played in salsa bands during the seventies. How did you meet Kid Creole? Do you recall Coati mundi?
MT: Coati's name is Andy Hernández. I never played with him; when I was with Kid Creole, he had left the band. I did a few of his solo gigs.

I had heard about Kid from my friend Yogi; he really wanted me to do this gig. It came to pass about a year after he died. It turned out that I met Kid around 1989. My first gig with Kid Creole was at Carnegie Hall, for 2 nights, with the Cab Calloway Orchestra, and many guest artists joined in passing of the torch to Kid Creole from Cab. I got the call at 5:00 am. The bass player asked if I was open; I sure was. It seemed the drummer decided to take a leave of absence at the very last minute. No rehearsals; just came in with some drum charts that I made. Luckily, my girlfriend had his music and a video. I did record a movie soundtrack called "New York Stories" with Kid Creole.
EEG: How many and which instruments of percussion and otherwise do you play?
MT: I consider myself to be a drumset- batería player, with some timbales and bells skills. I play very basic congas and miscellaneous toys. Just enough piano to write; that will be improved sometime before the final curtain comes down -- I promised this to myself! I feel most proficient on timbales, besides the drumset.
EEG: Did you record with any band before for forming 3D?
MT: Some recordings that would be available commercially would be 3D's four CDs, Lisa McCormick's last two CD's, and the New York Metro Mass Choir's last CD. I did other stuff along the way -- demos and projects for various folks. I'm sure I am forgetting some things.
I do remember my first recording -- cymbal rolls for an off Broadway show in NJ.

I have had the honor, after forming 3D Ritmo de Vida, to work with Herman Olivera, Lenny Underwood, Ray Chew, Ruben Rodríguez, Ricky González, Willie Torres, Oscar Hernández, Ray Vega, Jerry López, and so many talented musicians who performed on 3D's CDs.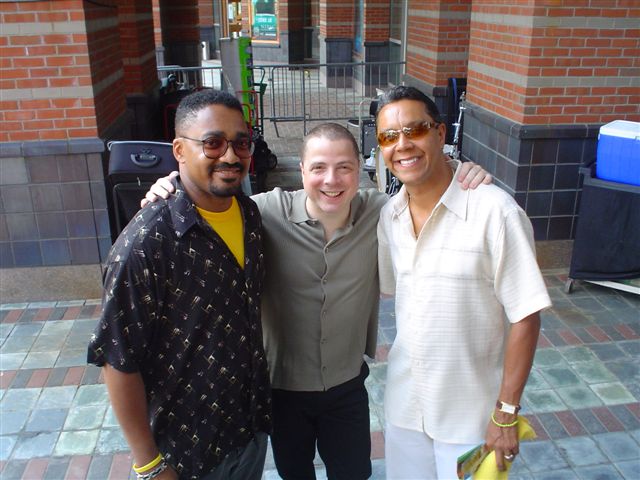 Lenny Underwood, Michael Tate y Herman Olivera,
EEG: How did you meet and become partners with Chris Amelar?
MT: Chris and I met at a Jam session, and then again on the same club gig a couple of days later (total coincidence) -- not really an exciting meeting. It was perhaps a year or so later that we decided to form our own group. This I recall very clearly.

We were playing a real typical wedding gig and wound up playing some dinner music together (just a duo), and it sounded really good. I suggested we put a trio together, but not with the typical guitar, bass and drum configuration. I came more for the Organ trio tradition and wanted to go in this direction. The most important change was, we were not a Jazz trio. The repertoire was really diverse, with cover tunes, featuring our own arrangements. We played everything (and still do, depending on the gig), from our own originals, to Beny Moré, BB King, The Eagles, Art Blakey tunes.... and much, much more.

When 3D was developing, I put forth a very simple direction: "Let's play the music we all like to play; if it isn't happening, we don't play it, no filler."
EEG: Tell me about Chris Amelar, his background and his tastes.

MT: Chris Amelar is a native New Jersey resident. He began learning music when he was 5 years old, studying the piano and trombone. When he was 13, he began guitar lessons and quickly formed a rock band with his friends. After high school, he attended William Paterson University as a jazz major and graduated with honors in 1988. After college, he performed with a variety of groups in the NY metropolitan area and authored many instructional books, videos and publications. Eventually, through the normal course of being a freelance musician, he met me. We began playing together in various groups and soon decided to form a group of our own.

Chris's writing influences are the Beatles, Stevie Wonder, James Taylor, Pat Metheny, Steely Dan, Sting, as well as various artists in the field of classical music and film. His early guitar playing was shaped by Classic Rock and Jazz artists, and, more recently, by Latin, Caribbean and Blues music.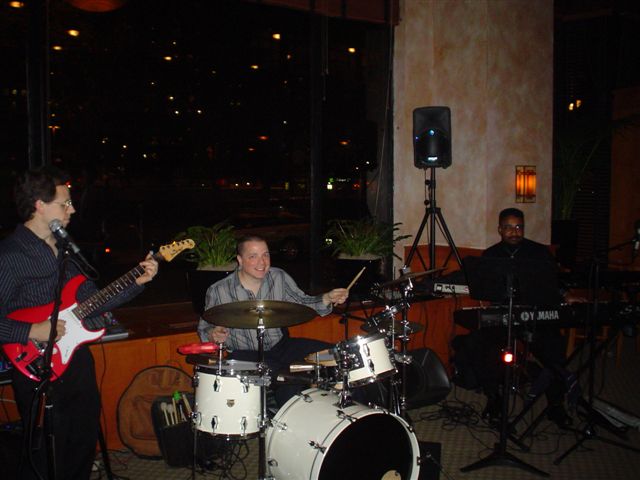 Chris Amelar, Michael Tate y Lenny Underwood
EEG: How did you put 3D together?

MT: The group 3D was put together about 10 years ago by myself and my partner, Chris Amelar. The first piano player was Ted Brancato, a very talented player. A short time later, Lenny Underwood replaced Ted. The changes in the keyboard chair really added to the growth of the sound, groove, and the overall feel of the band. Lenny has played with everyone from Chaka Khan, Harry Belafonte, Richard Bona, Mariah Carey, and many more acts.


EEG: How did you come about with the name 3D? Whose idea was it?

MT: The name came from the cornerstones of the group: Diverse, Dynamic and Danceable. Chris and I both had a hand in it. The 3 does not represent the number of guys on the band stand; we come in all shapes and configurations. The group has grown and so have the musical colors; we are a work in constant progress and motion.

EEG: How did your first CD, "World Beat Dance," come about?

MT: The time came to document our Originals. The style had been developing through all of the cover tunes that we had arranged and performed. To this day, when we do someone else's tune, we put our flavor on it. It is a must in order to present the group's sound. We are always mindful and respectful to the traditions of the music, even though our core instrumentation is not typical.

<![if !supportLineBreakNewLine]>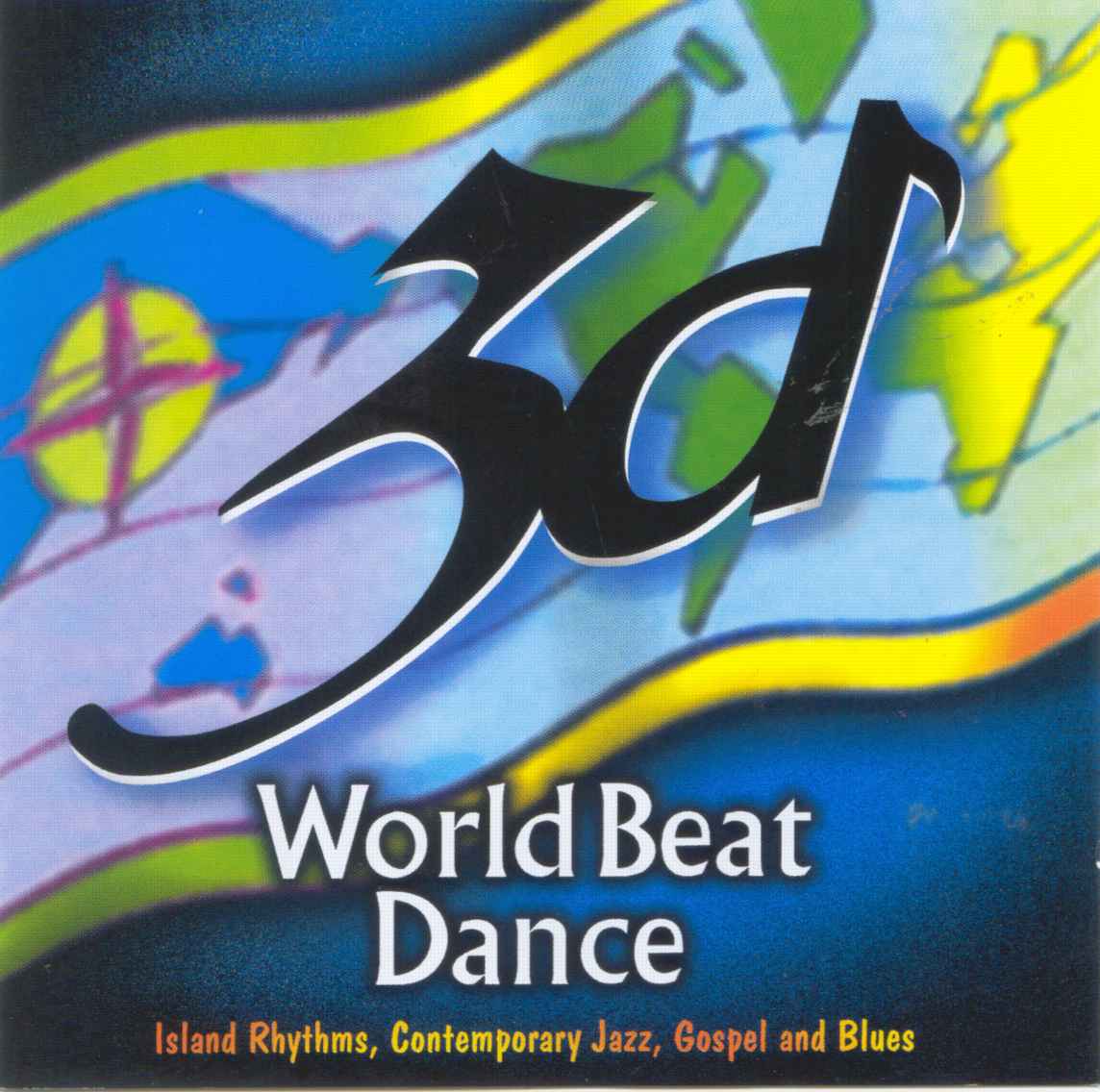 <![endif]>
EEG: When I heard "World Beat Dance," it felt like happy music -- very positive and optimistic --, which I truly enjoyed. You had almost every genera represented, and I can see that black music, via gospel, blues and steel drums, was your main repertoire at the time. However, it does also have a world music feeling, due to the instrumentation used. Am I right?
MT: That is correct. 3D has a really extensive and diverse repertoire; "World Beat Dance" captured some of that. This CD was the last trio recording. In fact, it included 2 trios -- the original piano player, Ted Brancato, on some tracks, and then, of course, Lenny Underwood. He had joined us in January of that year. We try to record music that has a groove, melody and soul. To be honest, we like to cross the genres and styles.
EEG: This same album was instrumental. Was that the original plan all the way for the group? Did you record any vocals on this one?

MT: Instrumental all the way. Chris and I have always written with vocal melodies in mind; they are waiting to be recorded some day. The lyrics are in English and will be presented somewhere in the future. It just takes money and investors, and I am broke for now!


EEG: Your next project was "Jambalaya," which in a way is different from your first one. It is also instrumental, but it is more dynamic and festive. The music, I believe, is stronger, and with less innocence. In addition, you increased the number of musicians, compared with the four of you that participated in "World Beat Dance."

MT: Jambalaya kicked it up in many ways. The size of the production grew with horns, percussion and special guests, augmenting the sound with Chris and myself. I really need to listen to my CDs. I never thought about the mood of the music. Interesting!

Jambalaya set the stage for the vocals. When I made this CD, I quickly realized that musicians and music lovers really dug the diversity and the large amount of music we presented. I also was informed by some industry people that it was too diverse, that they could not sell it or name it. They wanted me to pick a style. I said, "This is our sound, this is the style of 3D Groove and a melody." After some thought, I decided to trim it down -- no need to reinvent the wheel. However, the flavors would still be heard in Ritmo de Vida. The vocals were born with Lino Iglesias and Herman Olivera. Most people really want to hear a vocal in any language, so we gave it to them; it was now the right time to do it. The best choice was Herman; he is and was the first singer in 3D.


EEG: In "Jambalaya," you also recruited some heavyweight salsa fellows from NY City, like Oscar Hernández, Rubén Rodríguez, Pablo Chino Nuñez, and Ray Vega. As a result, the two salsa tunes were awesome. Also, in the tune "All in Vain," it seems that you used an accordion. Is that right?

MT: These guys were with the Spanish Harlem Orchestra at the time -- some of the very best. We were honored that they worked with us. I remember asking Oscar and Rubén to put the colors on our canvas. 3D is not the typical Salsa line up; they did it just right.

No Accordion, only the great Lenny Underwood -- he has fooled many people; he actually played it on keyboards. You got to see him do our gig live; this man can split in two. Oscar's montunos in the right hand and Ruben's bass in the left. To watch Chris and Lenny toss the bass parts back and forth also adds to the sound that we have created.


EEG: How did you feel sharing the percussive labor with Chino Nuñez? Was it intimidating?

MT: Not at all. Chino was fantastic, one of the very best, on the money. The other gentleman was Bashiri Johnson; he is on so many records, it's crazy -- a true professional also! Both guys played to the drums. You see, I take a bit of what percussionists play and what the drumset would play when I create my parts. They found the holes and filled them with Sabor.
EEG: "3D Ritmo de vida," your next album, was the first one that put you on the map -- at least in mine. You jumped almost completely into the salsa bandwagon. Why the change?
MT: It was time to simplify our style for industry purposes. Let me explain it this way: Musicians and music lovers usually enjoy variety. 3D's music has always had Meat, Rice, Greens and Dulce -- it is not just one dish. Now, to help it along from a marketing perspective, I had to narrow it down a bit. Since we have always had a Latin/Island thing going on, it was time to make a push in that direction. We added horns and percussion along with some vocals. I still consider what we do a Tropical Sancocho. I am glad we got onto to your map, my friend!
EEG: In this album you also introduced vocals, selecting one of the best voices in salsa, namely Herman Olivera. Care to elaborate?

MT: The first and original voice of 3D is Herman Olivera! Herman is one of the very few singers versatile, comfortable and adventurous enough to step out of the traditional Salsa configuration. Herman's inclusion just made sense for the music. Lino Iglesias provided him with the words and Herman filled in the rest. I can tell you that the outtakes from "Mi Amor Tú Volverás" are fantastic; we let Lino and Herman pick the take. I also realized that as much as I enjoyed the music instrumentally, I always knew these songs had to be sung, and Herman Olivera was the BEST choice. In addition to being a great friend, Herman shared his music, culture and love of music with 3D. Many thanks!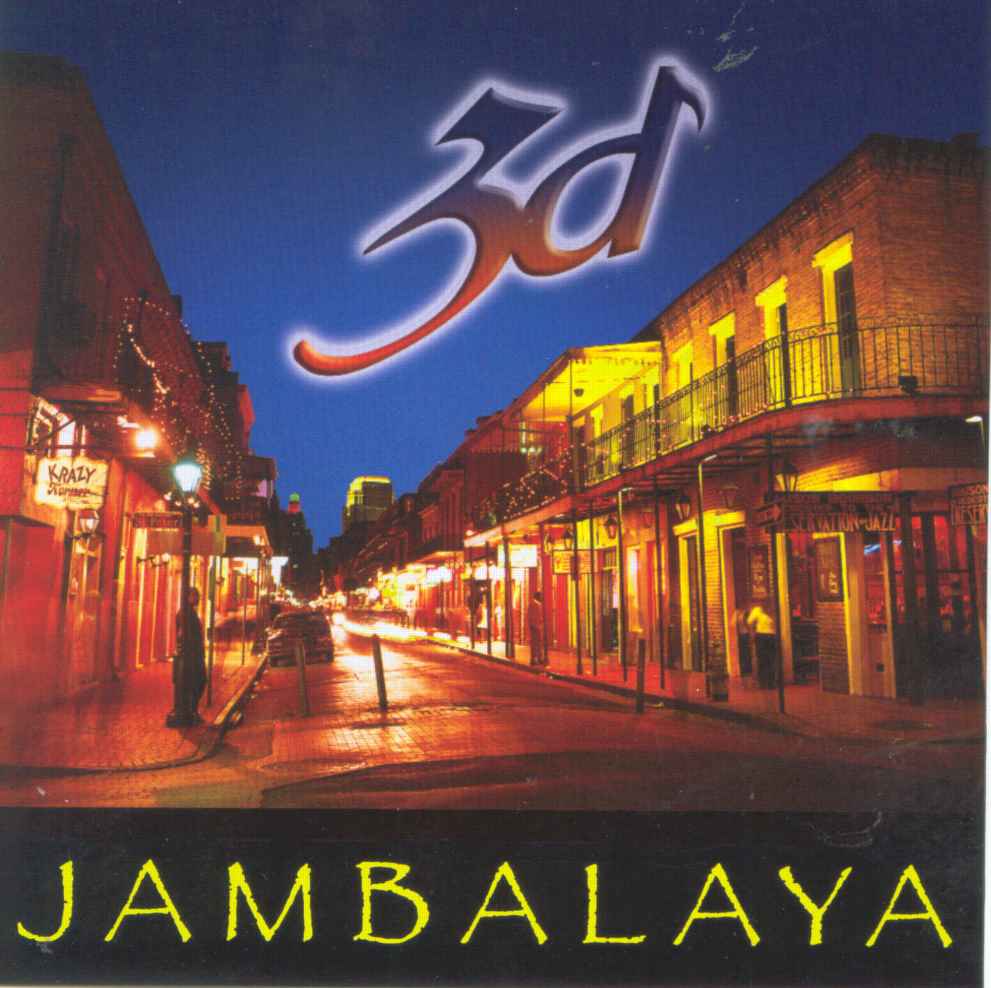 EEG: In this album you also included "My love will return" and "I'll get by," from the "Jambalaya" CD. You told me that "Jambalaya" and "Ritmo de Vida" were done about the same time. What's the story behind these two CDs?
MT: We finished "Jambalaya" with its intended release to follow, mixed and mastered it.
Music lovers and musicians dug it. As I stated earlier, industry said pick a style. It finally hit me that there was no need to reinvent the wheel. I picked Latin/Tropical and decided to include our first vocals. I also realized that no matter what the name of the rhythm in any given song, the flavor and style of our writing would always come through. In fact, we were now being called a Latin Jazz band because it was mostly instrumental Latin music.

"Jambalaya" was never officially released with an advertising or radio campaign; however, it will get a push in the near future -- got to find some money! In fact there are some alternate mixes and renditions of a few tunes from "Ritmo de Vida" on "Jambalaya." I gave a little preview of what was to come. The listener can go back and check out the trio and the more fusion versions of "Elianna" and "Guanta Rico," from our first CD, "World Beat Dance." It has grown.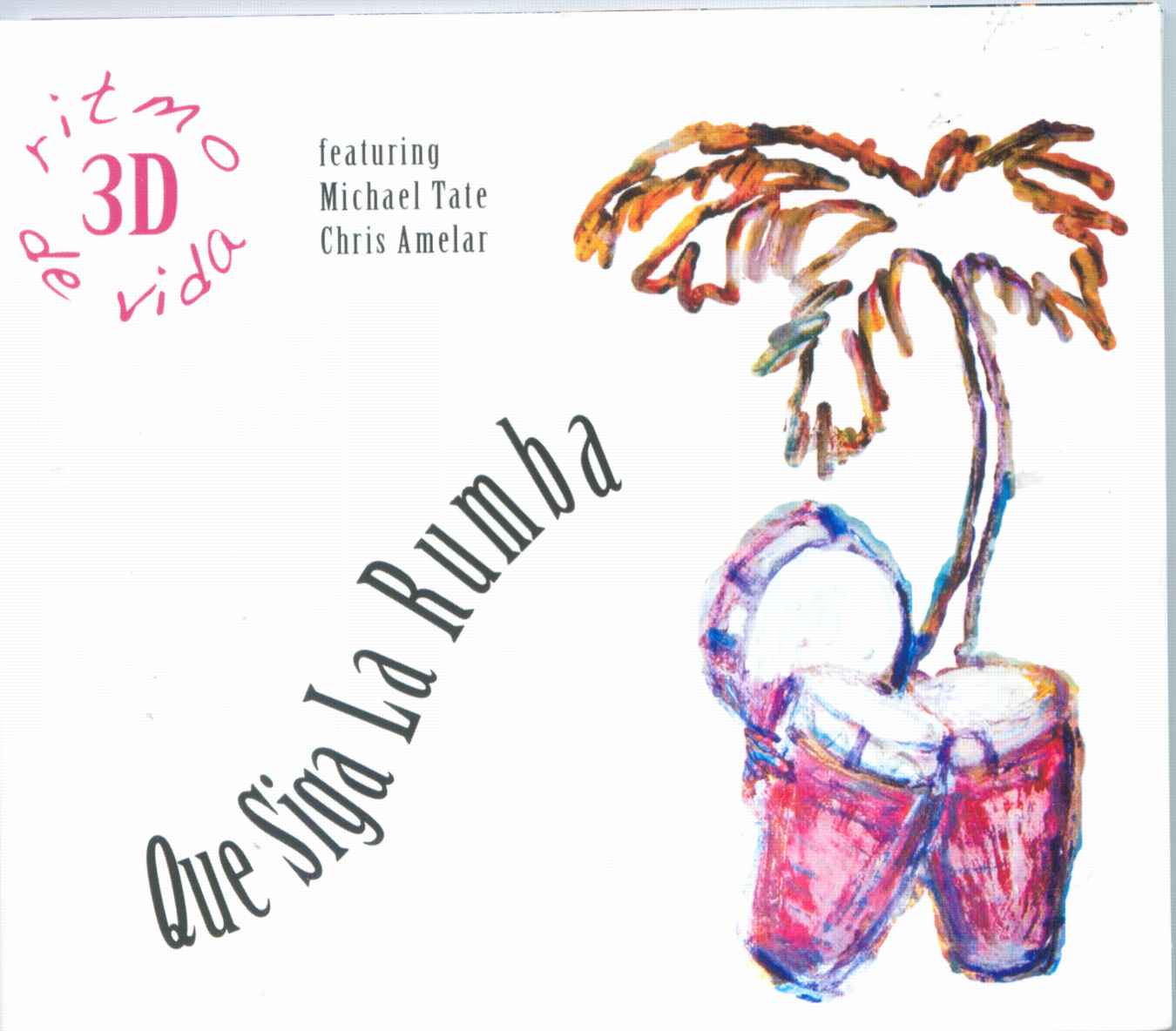 EEG: Your most recent CD, "Que Siga la Rumba," continues the trend initiated with "Ritmo de Vida." This time, however, you go deeper into the Afrocaribbean rhytmhs, including chachachas. Of course, you also feature a reggaeton. Plus, all the titles of the tunes are in Spanish. What's the concept behind this production?

MT: "Que Siga La Rumba" was produced for a variety of reasons. The time had come to step up our game and continue deeper into Latin/Tropical Music. I really wanted to show that we could play Salsa and a lot more. I believe we did that with "Que Siga La Rumba."

As I answer this question, I recall the words and opinions shared with me about the first CD, "Ritmo de Vida." We needed to produce a follow up to the song "Mi Amor tú Volverás" -- dancers and fans wanted this. Also, I wanted to feature more vocals. I had been singing these songs in my head long enough. Our audience is more than just Salsa and so are the influences of our music. This is only a small glimpse of what is hopefully to come…
EEG: In this CD, you also recruited more NY salsa heavyweights, like Ozzie Melendez, Ricky González, Chembo Corniel... It looks that you reached a level of comfort in salsa music.

MT: Well, not really comfort: some courage and evolution. I have a saying: "If not now, when?" There is no reason to wait. We have learned so much from making four CDs, the lessons and experiences are still ongoing. We know who to work with, how to produce and how to feature the right guys on a tune; it takes time and mistakes to learn these lessons. Music must respect its traditions and also move ahead -- PALANTE! I feel very fortunate and honored that gentlemen like Ricky González, Herman Olivera, Ozzie Melendez and so many others put their stamp on our music.


EEG: I noticed that you and Chris are also arranging the horns. Is that easy for you? How did this come about?

MT: The Horn Arrangements came out of necessity. Chris and I explored some other options that did not work out and finally decided to do it ourselves. We figured that we knew the tunes better than anyone else and we really had to do it; we are so glad we did it. Our influences from different styles and experiences really helped. I want to say that the Orchestrations were done by Mr. Ricky González -- he is the best! He took our arrangements and set them in motion. Big thanks to him!


EEG: The emails that I receive from you make me realize that you keep yourself busy. I imagine that you create groups for each occasion. Which formats do you use, and which one is your favorite?

MT: I try to keep the band working as much as possible, all gigs, shapes and sizes. I have my preferences for size and instrumentation. I really enjoy the recent addition of trombones on the gigs; it mixes great with the guitar and adds power and punch. The exciting thing about 3D is that all the tunes are always written to be played in all different configurations and sizes. The bigger the budget, the bigger the band. I like the 7-8 piece range best. However, the core trio is really tight and moves so easily (Drums, Guitar and Keyboards). Only some folks know that this band started as a trio and we still do some gigs with just three pieces.


EEG: How do you see Latin Music, in particular salsa, in New York City these days? I noticed that some band leaders have opted to move operations elsewhere.

MT: I really do not know. It seems that the Salsa scene is bigger and thriving elsewhere, California and Europe I am told. I wish that people would open up a little more and try booking some new things. The blood has to keep moving to keep the music alive and growing. Today we have many flavors and looks. Things can not remain the same; life changes and evolves everyday.


EEG: How do you want your next CD to be?

MT: Paid for by someone else! I would say that the music and response will show me the way to go. If someone hires me to write a specific style or concept, no problem -- you get the right people to do what is required. For 3D, we write and let the music chart the course. The industry is very interesting and filled with many challenges. I have ideas and lessons learned from the new CD, "Que Siga La Rumba." Just have to let my instincts guide me. If it is someone else's bread, well, who knows what we might do? I promise this: No Filler!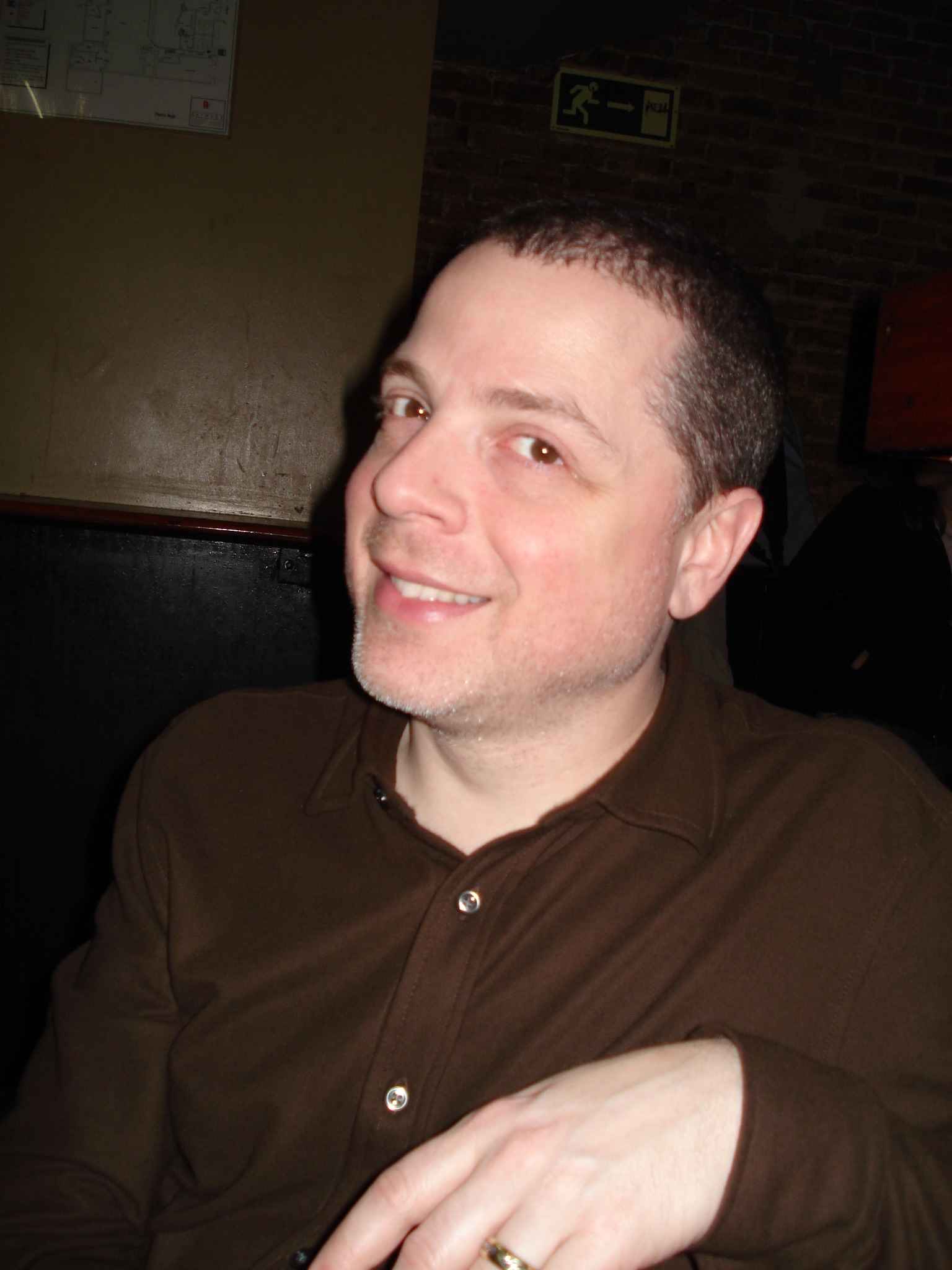 Michael Tate
EEG: Any final comments?
MT: As a drummer and composer, I am always drawn to music with a strong groove and melody. If I found both, I know I have a solid song. Add a meaningful lyric, and that completes the picture. This is what I strive for in writing as well as what impresses me when I listen to other artists.

I think being a Drummer/Percussionist gives me an open perspective in writing. The drum, after the human voice, is the oldest instrument known to man. Rhythm is in everything, and every style of music, if it has a groove, a swing, a dance, I want to play it.

Also, I look for the similarities in music; they are greater than the differences. Salsa, Merengue, Soca, Cumbia etc, have a lot in common from a drumming perspective and feeling. Soca Music is like Merengue and Samba -- it is generally a Party Music. The new magic comes when you add flavors that are not typically found (watch your seasoning!), always room for some SABOR.
Tradition is always in my mind as well as maintaining certain elements of authenticity given the instrumentation! If we always present the same things, the exact same way, nothing will ever develop. I grew up in New York and, as a drummer, everyone is your neighbor; all you have to do is open your ears and you can hear some wonderful things. I truly enjoy playing many styles of music -- some I am better at than others. The excitement is that it is a constant journey. I can always think of things that I need to develop and work on. Class is not dismissed!
Some other groups that MICHAEL TATE has performed with:

HERMAN OLIVERA
KID CREOLE AND THE COCONUTS
THE NEW JERSEY METRO MASS CHOIR
NEW YORK METRO MASS CHOIR
THE EXIBITS STEEL PAN BAND
MICHAEL URBANIAK
JOHN BLAKE
DANCE THEATER OF HARLEM
NEW JERSEY BALLET
LAZYBOY
LISA MC CORMICK
THE MARVELLETTES
THE DRIFTERS
THE TOKENS
Tons of club and Vegas casino gigs, long time ago!

Some notable shows:

JVC Jazz Festival
The Bluenote
NJPAC Center
KID CREOLE LIVE AT THE WINTER GARDEN THEATER
CAB CALLOWAY AT CARNEGIE HALL
WEST INDIAN DAY CARNIVAL
AVERY FISHER HALL
APOLLO THEATER
ROSE THEATER AT LINCOLN CENTER JAZZ
BETHLEHEM MUSICFEST
WOODY ALLEN'S NEW YORK STORIES
BILLIE HOLIDAY THEATER
WESTBURY MUSIC FAIR
TOWN HALL
GOOD MORNING, AMERICA


<![if !supportLineBreakNewLine]>Edición de agosto 2009
<![endif]>
<![if !supportLineBreakNewLine]><![endif]> [ Volver al inicio ]<![if !supportLineBreakNewLine]><![endif]>
<![if !supportLineBreakNewLine]><![endif]>
Derechos Reservados de Autor
Herencia Latina